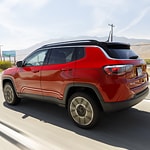 People who buy compact SUVs often do so because they want to take advantage of certain exterior designs that fall in line with their driving needs. The popular Jeep Compass is often their choice of vehicles because it offers some of the most innovative body designs and features found in the SUV world today.
To start, it has vibrant LED lighting that lets you see in even the darkest or foggiest of conditions. The LED lights are found in both the headlamps and taillights. They also are found in the vehicle's fog lights so that you can see the road clearly while you drive.
The Compass also makes loading and unloading cargo easy with its touch button gate. You can easily lift up the gate with the press of a button on the outside to load your belongings.
Admire what the new Jeep Compass looks and drives like today. Take this Jeep out for a test drive.