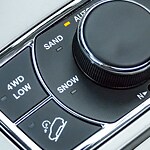 No matter how good of a driver you are, it is still important to have all the help that you can get to stay safe. This is what the Jeep Grand Cherokee offers you. There are several added features that will come in handy when you find yourself in certain situations.
One of the reasons why the Jeep Grand Cherokee is such a popular SUV is its standard Pro Tech Package. This will give you many features, among them the blind spot monitoring system. You will now have a sensor that alerts you if another vehicle is approaching next to you that you might not be able to see.
The seven added airbags are also a comfort to have. If you are to be in a collision, the body of the Jeep Grand Cherokee is built to keep you as safe as possible. Tyler Chrysler Dodge Jeep RAM would like to invite you down to take a test drive.